We Create the familiar feeling of home.
We believe first and foremost that home is a feeling, and it's our goal to help infuse that into every inch of your space.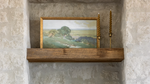 inspiration
Inspired by our California roots, the JZ Interior Designs aesthetic blends the fresh, natural beauty of the coast with traditional touches that finish a space. Our design is built in layers and textures to achieve an elevated yet familiar feeling of home.